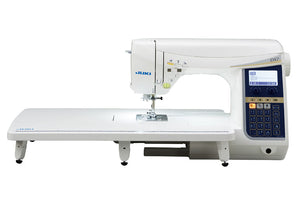 Freight not included in price.  If you wish this to be couriered to you we will work out a courier fee after purchase.
Enjoy the satisfaction of creating your own design while using high quality finishes. Get the most out of your sewing experience with the New Juki HZL-DX series and turn your creations into masterpieces.
Features
Automatic Needle Threader – Threads the needle with the press of a lever.
Automatic Thread Trimming.
Electronic Foot Lift.
Foot Float Function.
Foot Pivot Function – slight lift of foot with needle down to simply change direction of sewing without need for re-alignment.
Drop Feed – Drop the feed god teeth with the flip of a switch for freehand embroidery or quilting.
Direct Pattern Selection – 10 Patterns can be swiftly selected and recalled.
Automatic Buttonhole with sensor system.
Independent Bobbin Winder.
Auto Lockstitch Function – Create invisible lockstitches at start/end of sewing.
Box Feed System.
LED Light
Increased Sewing Speed.
Slow Inching Speed Function.
Knee Press Lever.
400-57923 – Standard Presser Foot
HSM001141000000 – Bobbin (4)
400-57289 – Button Presser Foot (E)
401-12905 – Manual Buttonhole Presser Foot (I)
400-80960 – Overcasting Presser Foot (C)
401-12904 – Blind Stitch Presser Foot (D)
A9823-010-0A0 – Zipper Presser Foot (B)
A9110-700-000 – T-Shape Screwdriver
A9131-990-000 – Seam Ripper
A9137-990-000 – Cleaning Brush
A1145-E50-000 – Small Spool Cap
A1150-980-000 – Middle Spool Cap
400-80963 – Walking Foot (N)
400-80959 – Patchwork Presser Foot (P)
400-80964 – Quilt Presser Foot (Q)
400-83061 – Twin Needle (one set)
A9833-550-0A0 – Quilt Guide
400-58089 – Auxiliary Spool Pin
401-44122 – Foot Controller
400-70255 – Knee-lifting Lever
400-80962 – Open Toe Presser Foot (O)
400-80965 – Edge Sewing Presser Foot (R)
A9103-380-000 – Eyelet Punch