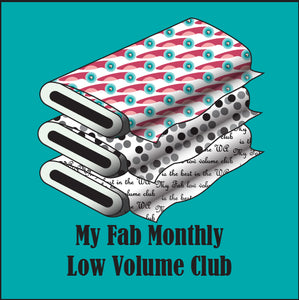 Do you love low volume fabrics just as much as we do? Never seem to have enough for your projects? Then this monthly subscription is for you.
What is a low volume fabric defined as? 
Basically they are white, cream, grey, pastel backgrounds, with subtle patterns or designs printed on them. In modern quilting low volumes are used instead of a solid plain background. Black and white text fabrics are a good example of low volume, but there is so much more than just text fabric to discover. 
This club is a great way to build up your basics and blenders. Choose 6 fat quarters or 6 half metres to come to you each month. These will be sent Express to you with a flat cost of $10 postage within Australia or $25 for overseas. Or you can choose to pick up your subscription from the shop. You will automatically be charged the cost and shipping (if not picking up)on the 20th of the month, and the fabrics will be sent shortly after. 
Minimum subscription of 3 months, you then either let us know you want to cancel, or we will continue to send each month. A payment will be paid on signing up and monthly deduction on the 30th of the month from May onwards. You can also pick up from the store too, please use promo code "clubpickup" at checkout. 
Please understand that you are signing up for a monthly subscription with a minimum 3 month subscription, to cancel this club after the first 3 months please email us at orders@myfabricology.com.au. Or contact us for further details.