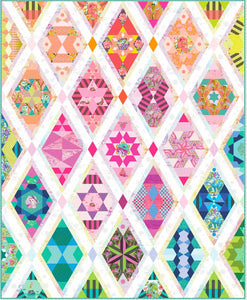 Now closed
An initial payment of $115 to secure a spot for this BOM. Then starting March 2023 we will deduct $115 per month from your nominated form of payment for 11 months thereafter. and in May, August, November 2023 and January 2024 we will send you 3 months of blocks in one package. Free shipping for all packages. (Saving you $40)

This is a 12 month commitment and can not be cancelled once you have signed up. 
Featuring:
Everglow, Moon Garden, Daydreamer, Tiny Beasts, Curiouser & Curiouser,True Colors & Solids by Tula Pink
Designed by Pink Door Fabrics
Finished Size: 60" x 73 1/2" (1.52m x 1.87m)
Block of the Month Total Quilt Top & Binding Yardage:
31.14 yds. (28.47 m), 91 different fabrics
Skill Level: 
Intermediate
Technique: 
English Paper Piecing
Recommended Quilt Back Purchase: 
Fairy Dust - Whisper QBTP011.WHISPER: 2 1/2 yards (2.29m) 108" Backing


Shipping May 2023
Blocks 1-3
Queen of Diamonds Quilt pattern by Pink Door Fabrics* featuring illustrations with the exact Tula Pink fabrics used to create this quilt plus cutting diagrams.
33 different fabrics
39 cuts = 8.16 yards (7.46m)
Packaged for each customer
complete with pattern.
Shipping August 2023
Blocks 4-6
34 different fabrics
38 cuts = 6.61 yards (6.04m)
Packaged for each customer
Shipping November 2023
Blocks 7-9
25 different fabrics
29 cuts = 6.92 yards (6.33m)
Shipping January 2024
Blocks 10-12
30 different fabrics
31 cuts = 9.45 yards (8.64m)