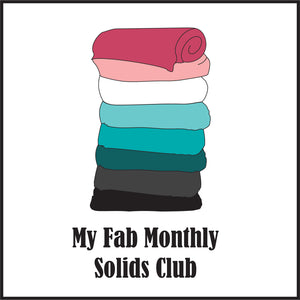 Never seem to have the basics when quilting? Solids are so important, but are always overlooked when shopping for fabric. Now we have this monthly club, allowing you to build your solid collection every month. 
Each month 8 Devonstone Solid fabrics will be sent to you. All themed to different colour palettes. Each marked with the solids name and number. Buy either fat quarter, half a metre or metre bundles. 8 new colours each month, sent on the 8th of the month.
Minimum subscription of 3 months, postage will be a flat rate of $10 per month for Express shipping in Australia . You then either let us know you want to cancel, or we will continue to send each month. A payment will be paid on signing up and monthly deduction on the 8th of the next month, after your first subscription sent.  You can also pick up from the store too please use promo code "clubpickup" at checkout. 
We will be posting your parcel on or around the 8th of every month.
Please understand that you are signing up for a monthly subscription with a minimum 3 month subscription, to cancel this club after the first 3 months please email us at orders@myfabricology.com.au. Or contact us for further details.